(Extract on) Business Judgment Rule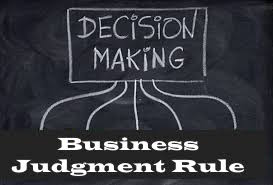 Directors that serve on a board owe a fiduciary duty to their company and members. Directors are generally protected from personal liability for decisions they make by what is known as the business judgment rule. See Fla. Stat. s. 607.0830 ("(5) A director is not liable for any action taken as a director, or any failure to take any action, if he or she performed the duties of his or her office in compliance with this section."); see also Florida Statute s. 617.0834 (regarding directors that serve on a nonprofit board).   These are very important statutes (607.0830 and 617.0834) for directors that serve on for profit and not for profit boards and their discharge of duties and decision-making.
The business judgment rule, however, is not absolute meaning directors are not automatically immunized from personal liability if they do not at in good faith, as set forth below. Directors needs to remember this point!
Under the business judgment rule, a court presumes that corporate directors acted in good faith. The rule prevents a court—which may possess less business expertise than the corporate directors—from calling upon directors to account for their actions, no matter how poor their business judgment, absent a showing by the plaintiff of abuse of discretion, fraud, bad faith, or illegality. The rule also prevents a factfinder from using hindsight to second-guess directors' business decisions.
Kloha v. Duda, 246 F. Supp.2d 1237, 1244-45 (M.D. Fla. 2003) (internal citations omitted); accord Raphael v. Silverman, 22 So.3d 837, 838 (Fla. 4th DCA 2009) (nonprofit condominium association directors "are immune from liability in their individual capacity absent fraud, criminal activity, or self-dealing/unjust enrichment."); Hollywood Towers Condominium Ass'n, Inc. v. Hampton, 40 So.3d 784, 787 (Fla. 4th DCA 2010) ("In applying the business judgment rule to condominium association decisions, courts have generally limited their review to two issues: (1) whether the association has the contractual or statutory authority to perform the relevant act, and (2) if the authority exists, whether the board's actions are reasonable.").
Please contact David Adelstein at [email protected] or (954) 361-4720 if you have questions or would like more information regarding this article. You can follow David Adelstein on Twitter @DavidAdelstein1.
Please follow and like us: